How to Make the Best Potato Salad
This classic potato salad is the one I grew up on. It's the recipe my grandma originally made, then passed down my mom, and then to me and my sister.  Now, my wife makes it for almost every gathering and it's a dish that friends ask for and nephews are sad when they miss it.  It's accompanied burgers, grilled ribs, and every other favorite summer dinner recipes under the sun.
As favorite family recipes do, it's a food memory none of us can, or want to, forget.
Here's the ingredients you'll need for this classic potato salad:
Baby Dutch Yellow Potatoes (other potatoes don't work as well… not sure why?)
pickles  (and the pickle juice)
hard boiled eggs
mayo
yellow mustard
kosher salt and fresh ground pepper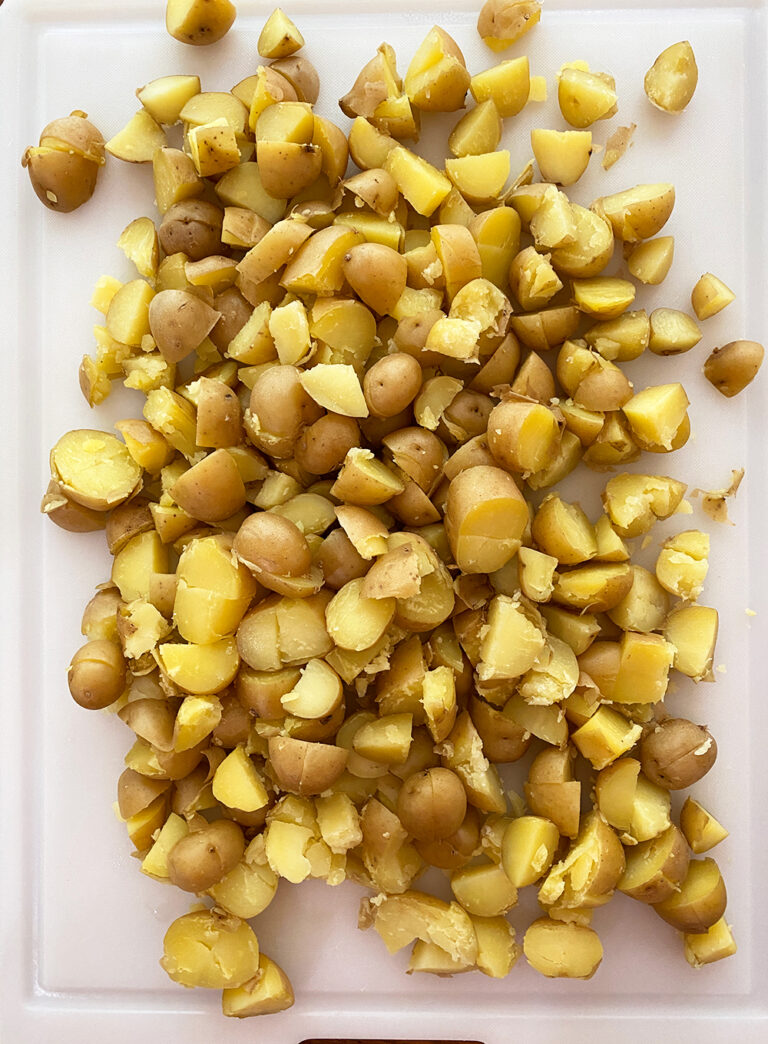 How to Keep Potato Salad from Getting Watery
There are a couple of reasons potato salad can become runny. Here's how to troubleshoot the problem.
Use the right potato. Dutch Yellow Potatoes are my go-to and absorb the dressing well.
Be sure to add the cooled potatoes before adding the mayo and mustard. Potatoes will sweat water as they cool, and that can contribute watery potato salad.
How to Store Potato Salad:
Pro Tip: When in doubt, throw it out. Wiser words have never been spoken, especially with perishable foods like potato salad.
Choose the right container: Most foods tend to lose their flavor and texture the longer they're exposed to light, air and moisture. For this reason, store potato salad — or almost any other food, for that matter — in a container that's airtight and moisture-proof.  I use the Foodsaver Preserve and Marinate containers, so I could be sure to get as much air out of the container as possible… giving my favorite potato salad the longest life possible.  If you don't already have the Foodsaver® vacuum sealer, pick yours up HERE
Thank you to Foodsaver® for sponsoring this recipe, and thank YOU for supporting the brands that help make Meal Prep Mondays possible. All opinions are my own. #FoodSaverAmbassador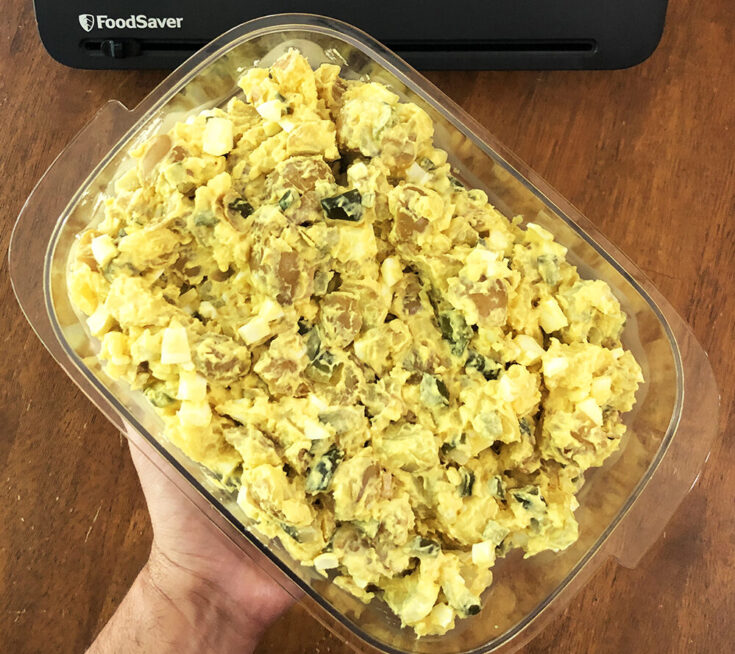 Yield:

14 servings
My Favorite Potato Salad
Ingredients
3 lbs Dutch Yellow Potatoes, quartered
6 ea eggs, diced
2 cups dill pickles, diced
1/2 cup mayonnaise
1/2 cup yellow mustard
1/2 cup pickle juice
Salt and Pepper, to taste
Instructions
Start by chopping, and cooking the potatoes. These will take the longest
Hard boil the eggs then dice them once finished cooking (and cooling)
While the potatoes and eggs are cooking, start chopping the pickles.
Put all the dry ingredients into a large mixing bowl, then add the mustard, mayo, and pickle juice
Thoroughly fold everything together and you're all set!
Enjoy!
Notes
Note: I have an egg cooker, so I load that up while the potatoes are cooking. If you don't have an egg cooker, try to cook the eggs at the same time as the potatoes to cut down on time
Nutrition Information:
Yield:
14
Serving Size:
1 grams
Amount Per Serving:
Calories:

141
Total Fat:

7g
Saturated Fat:

1g
Trans Fat:

1g
Unsaturated Fat:

0g
Cholesterol:

5mg
Sodium:

464mg
Carbohydrates:

19g
Fiber:

3g
Sugar:

1g
Protein:

3g