Have you ever wondered How To Cook Asparagus the right way? We're sure you've cooked asparagus the wrong way a time or two… and we want to help! Here are some easy to follow tips on how to pick the freshest asparagus spears on your next trip to the market – and cook it perfectly when you get home! Once you've got the basics down, you can put this How To Make Asparagus 5 Ways article to the test. Whoop!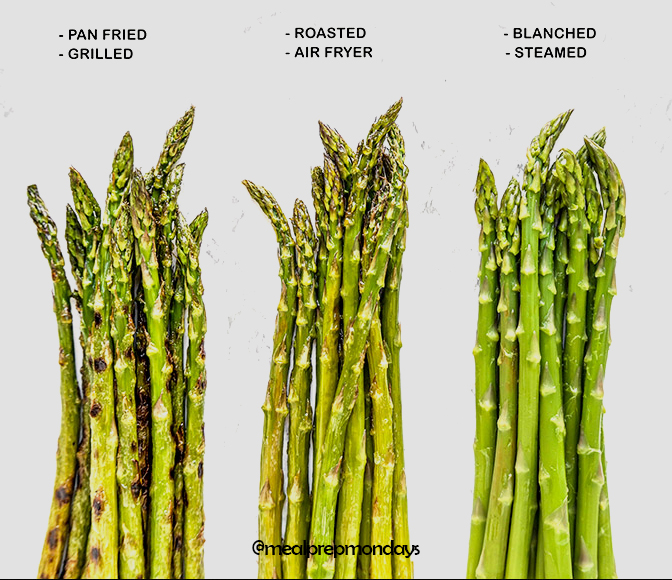 How To Make Asparagus:
In the oven: Preheat your oven to 400°F. Toss asparagus in a little olive oil, salt and pepper. Roast for 10-15 minutes.
In an air fryer: Preheat your air fryer to 400°F. Toss asparagus in a little olive oil, salt and pepper. Air fry for 10-15 minutes, or until light browning occurs.
In a fry-pan: Add 1 tablespoon olive oil to a pan over medium heat. When the oil is hot, add asparagus. Pan fry for about 10 minutes, until tender. Add salt and pepper and maybe a little lemon.
On the grill: Preheat grill or grill pan. Toss asparagus in a little olive oil and salt and pepper. Grill over direct, high heat 2-3 minutes for thin spears; 5-6 minutes for the thicker ones.
How to blanch asparagus: Fill a medium pot with 4-6 cups water and 1 tablespoon salt. Bring to a boil, add asparagus and cook for 3-4 minutes (depending on thickness), until tender but still yielding a crunch. Immediately after, drain and shock asparagus in ice cold water to halt cooking and for vibrant color.
In a steam tray: Place 3-4 cups of water at the bottom of a steam pot and bring to a boil. Insert steam basket with your asparagus spears in the tray. Cover and cook for 3-5 minutes for thin asparagus; 6-8 minutes for thick.
In the microwave: Lay your trimmed asparagus flat on about 3-5 wetted and wrung-out paper towels. Add a bit of salt – and roll paper towels and asparagus into a bundle. Cook in the microwave for around 3 minutes. Test doneness and add more time in 20-second increments if needed.
Now on to the fun stuff!
View this post on Instagram
Five Ways to Cook Asparagus:
Sauteed Asparagus with Morels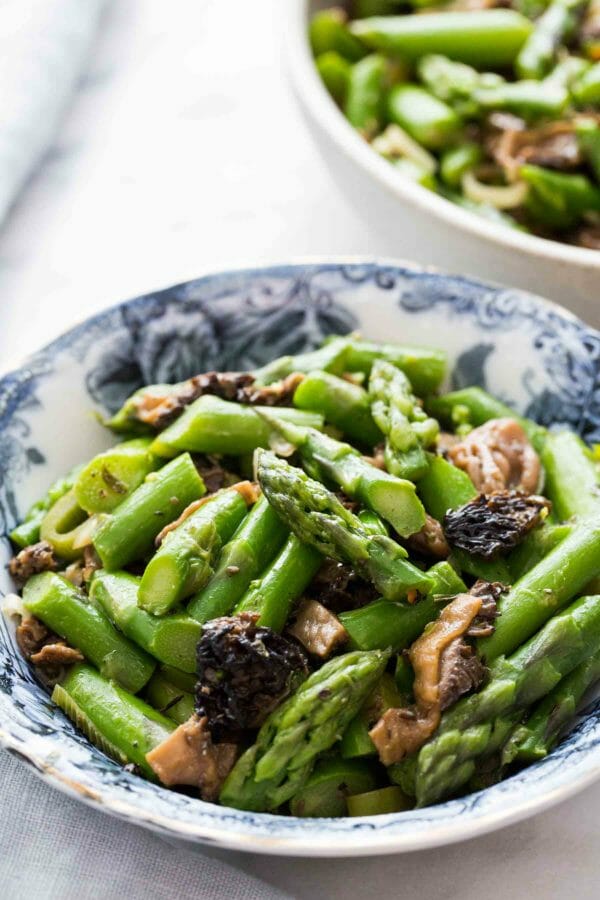 What are some of your favorite ways to make asparagus? Let us know in the comments below
And for more Meal Prep Recipes… Click Here