Our family loves yogurt, granola, and fruit, any time (not just on Mondays), and they love even more when it all comes together. And guess what? It only takes an extra few minutes to prepare it that way. Here are 3 of our favorite go-to weekend parfait combos for on the go breakfasts.
What is a Parfait you ask?
According to Wiki, In the United States, parfait refers to either the traditional French-style dessert or to a popular variant, the American parfait, made by layering parfait cream, ice cream, and/or fruit, usually in a tall clear glass, but can be in a short and stubby glass. The clear glass displays the layers of the dessert. The topping is created with whipped cream, fresh or canned fruit, and/or liqueurs.
Recent trends in the United States and Canada have introduced parfaits without cream or liqueurs. These are made by simply layering yogurt with granola, nuts, and/or fresh fruits (such as peaches, strawberries, or blueberries). This version is sometimes called a yogurt parfait or fruit parfait and is often served for breakfast.
Now I realize this looks nothing like a traditional French parfait. But we do things a little different here. These parfait combos are sweet, bursting with flavor, creamy, vanilla-y, crunchy, lightly and sweetened with granola. Include these in your weekend meal prep so you have some east grab and go snacks for the week.
Sweet.
Guilt-free.
Filling.
Satisfying.
You could eat this for breakfast, as a snack, a light dessert, or even lunch…it's pretty filling.
Parfait Combo 1 (from bottom to top):
Greek Yogurt
Granola
Pineapple + Strawberry
Repeat until the jar is full
Parfait Combo 2 (from bottom to top):
Greek Yogurt
Granola (or crushed up Clean Snax for extra flavor)
Blueberries + Raspberries
Repeat until the jar is full
View this post on Instagram
Parfait Combo 3: Mango + Raspberry + Chia Seed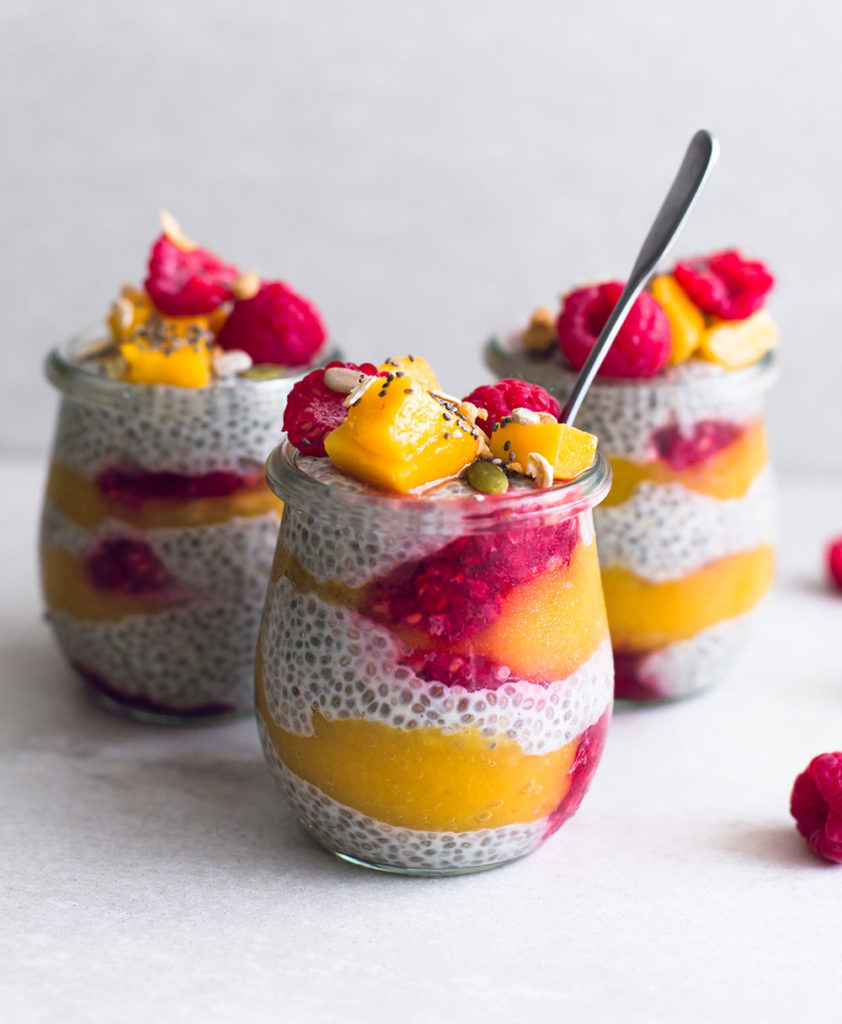 Ingredients
1 1/2 cups Soy Milk (or Almond/Coconut Milk)
1 1/2 tablespoons Maple Syrup or Agave Nectar
Pinch of Sea Salt
1 teaspoon Pure Vanilla Extract
6 tablespoons Chia Seeds
Flesh of 1 Mango
1/2 cup fresh Raspberries
2 teaspoon Maple Syrup