So you probably hear about this meal prepping thing all the time, but if you've never tried it, it can sound intimidating. This video is to help you learn the basics. You can make 7 full meals, for $3.50 each, in less than an hour! It saves you time, money and DEFINITELY helps you stay on track with your fitness or health goals. It's simple to bring one to work, to the gym, on the go, or wherever you need it!
Here's what you need at the grocery:
2 cups brown rice
coconut oil
980g chicken (approx 6-7 breasts)
juice of 1/2 lemon
4 cloves garlic
salt/pepper
2-3 heads of broccoli
1/2 cup Greek yogurt
assorted spices of your choice
Let us know how it comes out!
MACROS per container: Protein: 42 Carbs: 32 Fiber: 4 Sugar: 3 Fat: 18 Calories: 458 *Macros may vary* For best result put in the exact amounts you use into My Fitness Pal. =)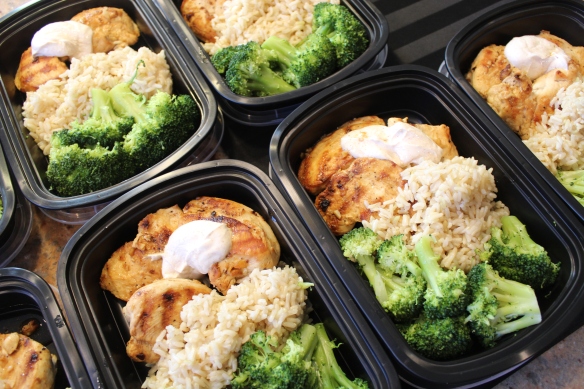 Yield:

7 meals
Easy Chicken Meal Prep
HOW TO MEAL PREP CHICKEN - This is a basic, and DELICIOUS, meal prep. Meal prepping saves you time, money, and definitely helps you stay on top of your fitness and health goals.
Ingredients
2 cups brown rice
980 g chicken, approx 6-7 breasts
1/2 ea lemon, juiced
4 cloves garlic
2 ea broccoli, crowns
1/2 cup Greek yogurt
assorted spices of your choice
salt/pepper
Nutrition Information:
Yield:
7
Serving Size:
1 meal
Amount Per Serving:
Unsaturated Fat:

0g